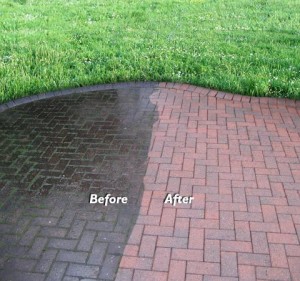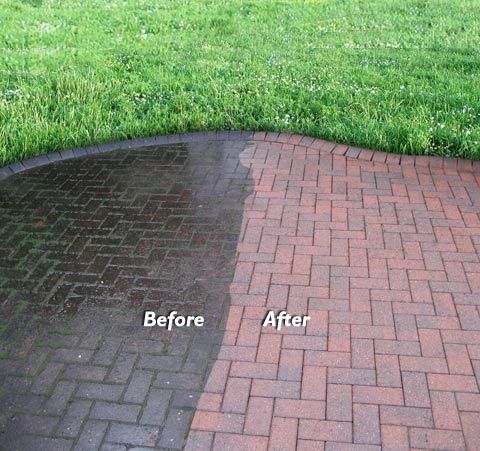 Superhero Property Maintenance (SPM) offers Power Pressure Washing Services in Vancouver BC. This is standard practice and increasingly popular green cleaning solution for home owners and property managers alike.
Why Power Washing with Pressure is Best
The use of power washing across Vancouver neighbourhoods for regular property maintenance and upkeep has numerous benefits over traditional cleaning methods and offers versatility for many restoration applications. It is an excellent economical cleaning solution for most hardscapes and solid surface restoration projects, especially where difficult grime, algae and moss have taken a foothold which is all too common on the pacific west coast. SPM skillful use of the right combination of applied surface force and water flow returns many hard surfaces to their former glory and aesthetic prestige, thus making it a favourite weapon for battle against the elements toll on your property.
Where Can it be most Effective
Our service technicians can restore most any hard surfaces natural beauty and appeal such as brick, stucco, stone and granite's, concrete and aggregate, and when applied correctly can also be used to treat hard woods, vinyls and aluminum siding.
Whether you are a property manager responsible for a parkade that needs to be scrubbed, re-striped and numbered, or, a residential home owner who needs a pathway, deck or patio cleaned, re-stained and resealed, we can accommodate your power washing needs.
We will also determine with you, whether the best plan of action involves a two part treatment approach for highly sensitive surface conditions as shown in the example image of moss removal from a shingles roof. Similar problem surfaces receive an ecofriendly composition pre-treatment because of the risk of deterioration due to an algae and moss infestation. This deterioration takes place where moss and algae take hold of any granular surface and then begin to thread and break  up the integrity of that object.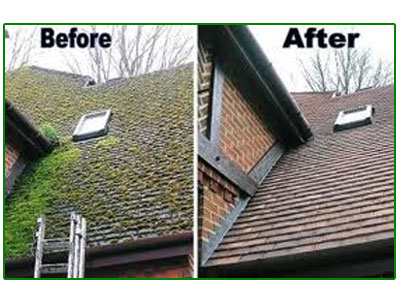 Is it Environmentally Safe
By administering an industry approved and safe, environmentally tested hydrogen peroxide solution we can kill the algae and moss infestation at its core, releasing its grips before it can do further damage to the property structure. We can now safely reclaim your building's rooftop shingles with a less abrasive power rinse and or brush sweeping soft wash. The eco-friendly composition we administer in pre-treatments is 100% non-toxic with a half-life of just 5 hours. Thus maintaining the safety of surrounding properties' lawns, gardens and landscapes without harm to community water supply systems.
We believe ecological awareness and minimizing ecological impact is everyone's responsibility and we are proud to do our part. The steps outlined in the above section will extend the health of your roof naturally and a green alternative option to cleaning with chlorine bleach and other harsh chemical products. With routine maintenance, rot and extensive water damage to your property's structure can be avoided and concerns of the potential expense of the cost of a new roof, thing of the past. As the expression suggests 'an ounce of prevention is worth a pound of cure'- We hope you will benefit from one of our proactive and preventative yet affordable maintenance schedules.
SPM responsibly anticipates all potential hazards involved in any aggressive surface treatment-a responsibility synonymous with risk management. We've all heard stories of pressure power washing jobs that fall into the wrong hands and go terribly wrong. Coincidently there is an explosion of low end cheaply built units on the market and an unsuspecting homeowner experiences problems and poor results because of cheap equipment and inexperience with equipment operation, giving power pressure washing a bad rap. This is where our skills and experience play their respective parts.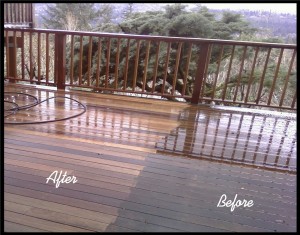 Right Tools for the Job
At Superhero Property maintenance we have the perfect combination of technique, skill, knowledge and experience to execute any property cleaning and restoration project big or small, safely and with excellence every time. We have a variety of professional accessories. We use job specific tools such as; surface cleaners, turbo nozzles, a selection of various angled nozzles, soapers and telescoping poles for hard to reach areas and surfaces depending on the surrounding obstacles or variables that might be encountered in the field.
Perhaps you want SPM to blast away a rotting and deteriorated surface to make way for a fresh new one? We can often utilize the power of the pressure washer in preparation for a new paint job. No matter what your needs for a grime fighting expert are, we will leverage our "know how" to minimize risk and deficiencies while maximizing efficiency.
All of our pricing is based on accurate measurements and use of materials. We offer quality results at competitive market rates to give our customers the fairest value for their dollars. At SPM, property owners and property managers have the peace of mind of knowing that the job is in capable hands and completed as agreed. Let a superhero start protecting your Vancouver property investment today.