Algae Stain Removal Vancouver
Tired of those unsightly and ugly algae stains ruining your homes presentation and public profile? Are you living in Vancouver and want affordable convenient no hassle algae stain removal and moss removed from your roofs? Welcome to Superhero Property Maintenance (SPM), your algae stain and moss removal specialists.
The mild and temperate climate our west coast enjoys year round in British Columbia is much to brag about. BC's moist and lush atmosphere produces in abundance here and is usually welcomed and appreciated, a perfect natural breeding ground for life to flourish.
We can appreciate all this until it starts to attack our homes and depreciate our real estates value. Enter Moss, algae, mildew, lichen and mold..  As these tiny stemmed organisms invade and entrench themselves on any buildings exposed textured and porous exterior surfaces they begin to deteriorate and displace those natural protective surfaces, exposing them to rot and further damage. Not only are these organisms structurally damaging to your home but they are also an ugly cause of embarrassment to you and your neighbours by defacing our public's image and properties overall aesthetics.
Roof Moss Infestation Removal Vancouver

Bryophyta (roof moss species) and those ugly green and black algae stains (Cyanobacteria) destroy the durability of any structure left untreated by eroding their protective membranes leaving them vulnerable to rot and decay. Most noticeably are these micro terrorists waging an insidious war on our properties north facing hard to reach roof tops and buildings siding. As these infestations of invading moss and algae stains take root they damage our property and become eye sores.
Our roofs the perfect nesting place for such invaders and left untreated this slow working insidious process can devour an entire roofing system.
While it is practical and necessary to treat and prevent moss and algae damage before it destroys your home, many home owners and property managers feel helpless and intimidated by the sheer height and danger presented in climbing up to a roof top.
"One ounce of prevention is worth a pound of cure"
Affordable regular preventative maintenance for your home can save you thousands of dollars. Moss absorbs and holds water which damages roofs. A new and costly roof replacement or complete roofing installation in the west coast can cost tens of thousands of dollars. Superhero property Maintenance specializes in such battles and takes the hassle and threat of these micro terrorists by force. By carefully assessing the severity of the infestation of your homes surfaces we can then take action in removing and treating this seasonally reoccurring moss and algae stains issue.
These routine roofing maintenance cleanings are likened to a persons relationship to their dentists hygienists. Suppose you were to think of your homes roofs health like your own teeth and dental hygiene. With regular cleaning you can control the inevitable and eventual plaque build up and avoid cavities and mouth disease but left unattended your visits to the dentist would become increasingly painful and unpleasant.
Power Pressure Washing Algae Stains and Soft Washing Applications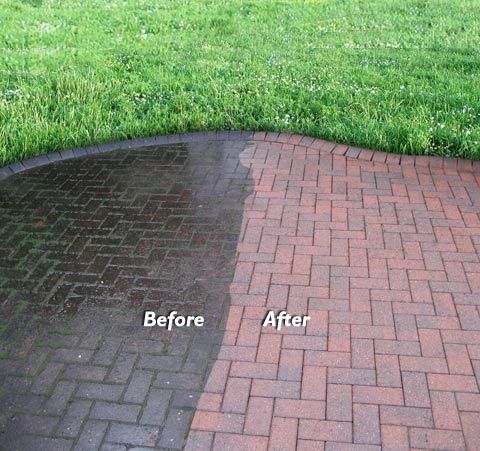 SPM addresses these problems in a number of ways with a number of cleaning solutions and treatments. Firstly a trained and quality SPM technician will assess the severity of the infestation and the general health of the surface to be treated. After careful examination we can then call on a variety of affordable techniques, power pressure washing tools and environmentally safe chemical treatments to address your properties algae stains moss and mold and mildew problems.
Benefits of Regular Property Maintenance
Manage seasonally reoccurring black and green algae outbreaks
Reduce dangerous slip fall hazards and liability claims
Improve general appearance to your properties and buildings siding, roofs, side walks, drive ways, pool decks, patio decks, balconies, fences and gates, stone and brick walls and enclosures, glass railings
Affordable solution with regular maintenance
Promotes building hygiene, properties health
list of common places moss algae stains can be seen buildings siding, fences, glass railing, side walks, walk ways, drive ways, etc
Where We Operate
We are locally operated and service clients and customers in the following neighbourhoods; Downtown, West End, Coal Harbour, False Creek, Yaletown, Gastown, Downtown Eastside, Strathcona, Grandview-Woodlands, Hasting Sunrise, Renfrew Heights, Mount Pleasant, Collingwood, Kensington-Cedar Cottage, Killarney, Victoria- Fraserview, Champlain Heights, South Van, Marpole, Cambie, Oakridge, Kerrisdale, Shaughnesey, Quilchena, Arbutus Ridge, MacKenzie Heights, Dunbar, Southlands, UBC, Point Grey, Kitsilano, North Van, British Properties, West Van.
Rooftop Maintenance Cost vs New Roof Price
A typical roof replacement here in can range between $15,000 to $30,000 dollars based on a 2000 square foot regular grade 2 shingled roof replacement by the time you have factored the cost of tearing the old damaged roof out and installing a new one. This lengthy and extremely expensive roofing replacement solution is both impracticable and many times affordable. avoidable  A roofing crew will need upwards of weeks to finish a complete roofing installation. This intrusion to your home can be totally avoided by professional and regular maintenance.
Algae stains and moss removal for a typical properties roof based on the same dimensions should cost a home owner between $800 and $3,000 to maintain that same roofs health for a complete maintenance package and often can be serviced within the same day or a couple of days.
Environmentally Conscious Commitment
SPM is committed to reducing our impact and carbon footprint here in the west coast and makes every effort at every opportunity to practice safe and responsible property maintenance and waste disposal methods.